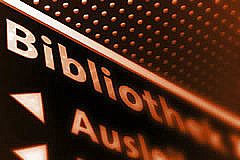 catalogue of libraries of the University Heidelberg and associated institutes.
Karlsruhe Virtual Catalog KVK - more than 500 million books and serials in library and book trade catalogs worldwide.
This bibliographic database references all kinds of media of more than 1000 libraries in Baden-Wuerttemberg, Saxony, Saarland, and Rhineland-Palatinate. It contains 47 million holding records for about 12 million titles of mainly scientific literature. These comprise 1.2 million holding records of 350.000 journals.
In its role as the German National Library of Science and Technology and the related basic sciences, the TIB/UB has spent decades successfully meeting the challenge of being an innovative and competent information provider.
The German National Library is the central archival library and national bibliographic centre for the Federal Republic of Germany
The American National library