Prof. Dr. Klaus Blaum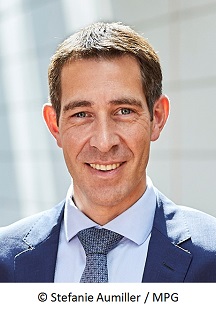 Name
Prof. Dr. Klaus Blaum
Phone
+49 6221 516-851
Fax
+49 6221 516-852
Address
Max-Planck-Institut für Kernphysik
Saupfercheckweg 1
Gentner lab, room 132
D 69117 Heidelberg
Email
Curriculum Vitae
CV of Klaus Blaum: pdf, 279 KB
| | |
| --- | --- |
| Birthday | 27.12.1971 |
| Birthplace | Sobernheim, now Bad Sobernheim |
| Abitur | 27.05.1991 at the Göttenbach-Gymnasium Idar-Oberstein |
| Military service | 01.07.1991 - 30.06.1992 |
| Family | married, two children |
University study and PhD
01.10.1992 - 09.10.1997
Physics study, Johannes Gutenberg-Universität Mainz
23.08.1994
Physics PreDiploma - magna cum laude
Oct 1996 - Oct 1997
Diploma thesis in experimental physics (Prof. Dr. E. W. Otten):
"Optimization of a quadrupole mass spectrometer for isotopic selective ultratrace determination"
09.10.1997
Physics Diploma - summa cum laude
01.11.1997 - 30.11.2000
Research Assistant, Institute of Physics, Johannes Gutenberg-University Mainz
Dec 1997 - Nov 2000
Dissertation in experimental physics (Prof. Dr. E. W. Otten):
"Resonance laser ionization mass spectrometry on gadolinium for ultra-trace isotope ratio determinations"
20.11.2000
Doctor rerum naturalium in Physics - summa cum laude
| | |
| --- | --- |
| | PostDoc and habilitation |
| | |
| 01.12.2000 - 30.09.2004 | Project Leader "Mass spectrometry of exotic nuclides with ISOLTRAP" at ISOLDE/CERN, Geneva, Switzerland |
| 01.12.2000 - 30.09.2002 | Postdoctoral Research Associate from GSI Darmstadt (Prof. H.-J. Kluge) at CERN (Geneva); ISOLTRAP/ISOLDE |
| 01.10.2002 - 30.09.2004 | Research Associate (Fellow) at the European Organization for Nuclear Research CERN (Division PH-IS) in Geneva, Switzerland |
| 01.10.2004 - 30.09.2008 | Project Leader (Tenure Track) of a "Helmholtz Research Group for Young Investigators" on "Experiments with Stored and Cooled Ions" at the Johannes Gutenberg-University Mainz |
| 22.02.2006 | Habilitation in experimental physics at the Johannes Gutenberg-University Mainz (Mentors Prof. Dr. I. Bloch and Prof. Dr. H. Backe) |
| | |
| --- | --- |
| | Professorship |
| | |
| 01.10.2007 | Appointment as director at the Max-Planck-Institute for Nuclear Physics in Heidelberg, Germany |
| 01.04.2008 | Appointment as honorary professor at the Ruprecht-Karls-University Heidelberg, Germany |
| | |
| --- | --- |
| | Committee and Services (selections) |
| | |
|   | Advisory Committees, Review Panels and Program Committees |
| April 2006 - March 2012 | German representative in the ISOLDE/CERN Collaboration (ISCC) |
| June 2007 - Sep 2008 | Member of the Gutenberg-Excellence-Forschungskolleg (GFK), Johannes Gutenberg-University Mainz |
| July 2007 - June 2010 | Physics Advisory Committee Member of IGISOL, Jyväskylä, FIN |
| April 2008 - March 2014 | Member of the Scientific Council of the ExtreMe Matter Institute, EMMI, GSI Darmstadt |
| since Oct 2008 | Member of the Standing group for the upgrade of ISOLDE |
| April 2009 - March 2012 | Chairman of the Mass Spectrometry Association within the German Physical Society |
| April 2009 - March 2012 | Member of the Executive Board of the German Society for Mass Spectrometry (DGMS) |
| May 2010 - March 2020 | Representative of the section Nuclear Structure and Nuclear Probes within the Committee for Hadrons and Nuclides, an advisory board of the BMBF (Ministry of Education and Research) |
| 2012 - 2014 | Representative chairman of the BMBF- Advisory Committee for Hadrons and Nuclei |
| 2012 - 2019 | Member of the DFG Fachgutachterauschuss |
| 2012 - 2015 | Managing Director of the Max Planck Institute for Nuclear Physics |
| Jan 2013 - Dec 2016 | Chairman of the ISOLDE and Neutron Time-of-Flight Experiments Committee (INTC) at CERN, Geneva, Switzerland |
| 2015 - 2020 | Member of the BMBF Advisory Committee "Physics of the smallest particles" |
| 2015 - 2016 | Member of the FAIR/GSI Strategy Board |
| Since July 2015 | Member of the Editorial/Advisory Board of "Advances in Physics: X" |
| 2016 - 2021 | Member of the Science Advisory Committee of FRIB, Michigan State University |
| June 2016 - Dec 2019 | Deputy Chairman of the FAIR/GSI Joint Scientific Council, Chairman of the Scientific Committee of GSI and Member of the Supervisory Board of GSI |
| 2018 - 2025 | Member of the Board of the German Physical Society (DPG) |
| Jan 2018 - Dec 2022 | Member of the board of Trustees of the "Physik Journal" |
| 2018 - March 2020 | Representative chairman of the BMBF- Advisory Committee for Hadrons and Nuclei |
| April 2018 - March 2024 | Member of the bi-national prize committee of the "Deutsche Physikalische Gesellschaft e.V." |
| Jan 2020 - Dec 2024 | Member of the Scientific Advisory Board of the Faculty of Physics of the University of Vienna |
| Jan 2020 - Dec 2025 | Member of the CERN Scientific Policy Committee (SPC) |
| Jan 2020 - Dec 2025 | Member of the Senate Committee and Grants Committee on Research Training Groups of the German Research Foundation (DFG) |
| Since July 2020 | Vice-President of the Max Planck Society Chemistry, Physics and Technology Section |
| Jan 2022 - Dec 2023 | Member of the Scientific Advisory Board of the Wilhelm and Else Heraeus Foundation |
| | |
| --- | --- |
| | International Collaborations |
| | |
| 2002 - 2010 | Spokesperson and member of the MATS Collaboration Boards at FAIR (80 members from 12 countries) |
| Since 2006 | Spokesperson of the COLLAPS Collaboration at ISOLDE/CERN (21 members from 4 countries) |
| Since 2008 | Spokesperson of the ISOLTRAP Collaboration at ISOLDE/CERN (28 members from 5 countries) |
| since Dec 2009 | Member of the ILIMA Collaboration Board |
| 2010 - 2014 | Co-Spokesperson and member of the MATS Collaboration Boards |
| 2012 - 2014 | Spokesperson of the FLAIR Collaboration at FAIR (126 members from 18 countries) |
| | |
| --- | --- |
| | Editorial Boards |
| | |
| Jan 2010 - Dec 2012 | Member of the Editorial Board of Physical Review C |
| since 2012 | Member of the Advisory Board of Annalen der Physik |
| 2013 | Guest Editor of Annalen der Physik and Int. J. Mass Spectrom. |
| since Jan 2018 | Editor of Eur. Phys. J. A |
| since April 2018 | Supervisory Editor of Nucl. Phys. A |
Referee
Journals (selection)
Nature, Science, Physical Review and Physical Review Letters, Physical Review A & C, European Physical Journal A & D, Journal of Physics B & G, Physics Letters B, Nuclear Physics A, Nuclear Instruments and Methods A & B
Studienstiftung des Deutsches Volkes
Deutsche Forschungsgemeinschaft
Natural Sciences and Engineering Research Council of Canada
The Israel Science Foundation
Science and Technology Facilities Council UK
Österreichische Akademie der Wissenschaften
Research Council for Natural Sciences and Engineering of the Academy of Finland
Miscellaneous
Aug - Sep 1999
Oct - Nov 2000
Visiting research scientist at Pacific Northwest National Laboratory, Richland, WA, USA
Talks since 2002
>300 invited talks for seminars, colloquia, and international conferences
Memberships
Deutsche Physikalische Gesellschaft, Deutsche Gesellschaft für Massenspektrometrie, European Physical Society, American Physical Society
9 Oct 2009
Patent No. 08716002.4 2208 PCT/EP2008001454
"Feldemissionsquelle für Elektronen als Feldemissionskathode" (Field emission source for electrons as field emission cathode)
3 Dec 2009
Invention report: Power supply
Utility patent no. 202008009497.6
Organisation (chair, co-chair) of many national as well as international workshops and conferences.
Editor of several scientific journals.