PKS 2005-489 - the first new AGN discovered by H.E.S.S.
November 2005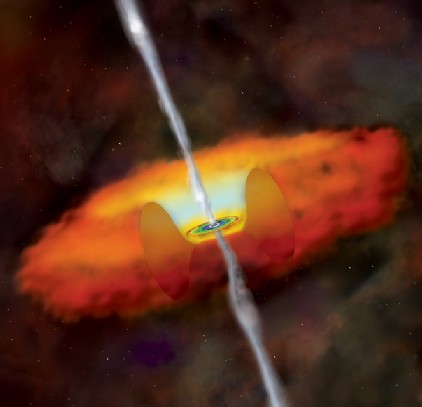 ---
The winter months are the main observing season for extragalactic objects for H.E.S.S., hence we will here and in the next SOM's concentrate on extragalactic sources of TeV gamma rays. PKS 2005-489 is in a certain sense of historical interest, being the first active galactic nucleus (AGN) newly discovered by H.E.S.S., based on data partly taken during the commissioning phase with two and three telescopes. The object was selected as an interesting candidate for observation on the basis of its high flux in X-rays and at radio wavelengths (Fig. 1), both tracers of high-energy electrons. H.E.S.S. observations resulted in a detection with a significance of 6 standard deviations (Fig. 2), sufficiently strong to derive an energy spectrum (Fig. 3). Attemps to detect the object with previous instruments had failed (Roberts et al. 1999, Nishijima et al. 2002, Chadwick et al. 2000), which is not surprising given its small gamma ray flux, of only 2.5% of the Crab Nebula flux. During the H.E.S.S. observations, X-ray activity of PKS 2005-489 was rather low in comparison to earlier times (e.g. 1998), implying that the AGN was in a low-emission state. Given its relatively modest redshift of 0.071, the steep energy spectrum appears to be an intrinsic feature of the source - the acceleration engine running out of steam - opposed to effects caused by gamma-ray absorption due to interactions with photons in extragalactic space, which preferentially remove high-energy particles.
The object PKS 2005-489 was observed again with H.E.S.S. in 2005, resulting in a strong detection and confirming the earlier results. A detailed analysis of this data and of simultaneous measurements at other wavelengths is still in progress.
Discovery of VHE gamma rays from PKS 2005-489, F. Aharonian et al., Astron. Astrophys. 436 (2005) L17-L20
References:
---