Welcome
Welcome to the webpages of H.E.S.S., one of the leading observatories studying very high energy (VHE) gamma-ray astrophysics. To learn more about H.E.S.S. and the high energy universe, or to view pictures from the telescopes and the site in Namibia visit the About H.E.S.S. section.
Follow H.E.S.S. on Twitter, on Facebook and on Instagramm for news regarding the H.E.S.S. instrument and its science.
News
For older news see our News Archive
Gammapy selected as open-source software of choice for analysis of H.E.S.S. data
May 10, 2021
Data obtained with the H.E.S.S. telescopes are recorded and stored in "root" format, which is widely used in the particle physics community. From the early phases the collaboration developed several proprietary analysis methods. Processed data are stored in proprietary file structures. In order to facilitate exchange and common treatment of data obtained with other facilities and to allow efficient adaptation of open-source software, the H.E.S.S. collaboration explored data analysis with different open-source tools using the open FITS data format for some time.

Based on extensive tests and development and adaptation, the collaboration now chose Gammapy as its open-source analysis framework. Gammapy v1.0rc Gammapy will be released in the next weeks.
Gammapy-based studies will complement the well-established proprietary analysis methods used by the H.E.S.S. collaboration and facilitate further development of the tools by challenges posed in exploring real observations obtained with H.E.S.S..
H.E.S.S. collaboration member Manuel Meyer wins ERC grant
April 10, 2021
Congratulations to Manuel Meyer for winning a Starting Grant from the European Research Commission on "Searching for axion and axion-like-particle dark matter in the laboratory and with high-energy astrophysical observations". Manuel and his group will join the H.E.S.S. group at the University of Hamburg starting June 2021.
The grant will enable Manuel to start a dedicated research group which will search for hypothetical axions and axion-like particles. Such particles are predicted in certain theories of particle physics and could explain several unresolved questions in particle physics and cosmology. For example, they are candidates to explain the mysterious dark matter. Manuel Meyer's team will search for axions by contributing to dedicated laboratory experiments and by searching for their signatures with astrophysical observations — including observations of distant galaxies with the H.E.S.S.
Manuel has started his scientific career as a PhD student in the H.E.S.S. collaboration, has worked as a H.E.S.S. member in several groups of the collaboration thererafter and kept his association with the H.E.S.S. collaboration also while working as a Feodor Lynen Research Fellow at Stanford University.
H.E.S.S. completes a very successful year 2020
February 10, 2021
2020 will have its place in history. The Covid-19 pandemic affected the lives of many people all over the world. That is why we are grateful to the continued efforts of our local crew and shifters, and many members of the collaboration, in keeping H.E.S.S. running during this unprecedented time. Thanks to their hard work, the experiment completed an extremely successful year 2020. We celebrate a record telescope efficiency resulting in the largest annual amount of data taken in the history of H.E.S.S..
2020 has been the first full year in the H.E.S.S. extension phase that started with the installation of a new camera on CT5, the world's largest Imaging Atmospheric Cherenkov Telescope (IACT). For this phase the collaboration had set new goals to increase operational efficiency and agility. While the implementation was challenged by global, Covid-19 induced travel restrictions, the high goals that had been set for H.E.S.S. have been met. Not only did the H.E.S.S. telescopes continue observations throughout the pandemic-stricken year - no small feat. The new camera runs flawlessly. Many new features in operations increased the on-target time. As a result the number of observing hours obtained with all telescopes has increased further and reached a new record level.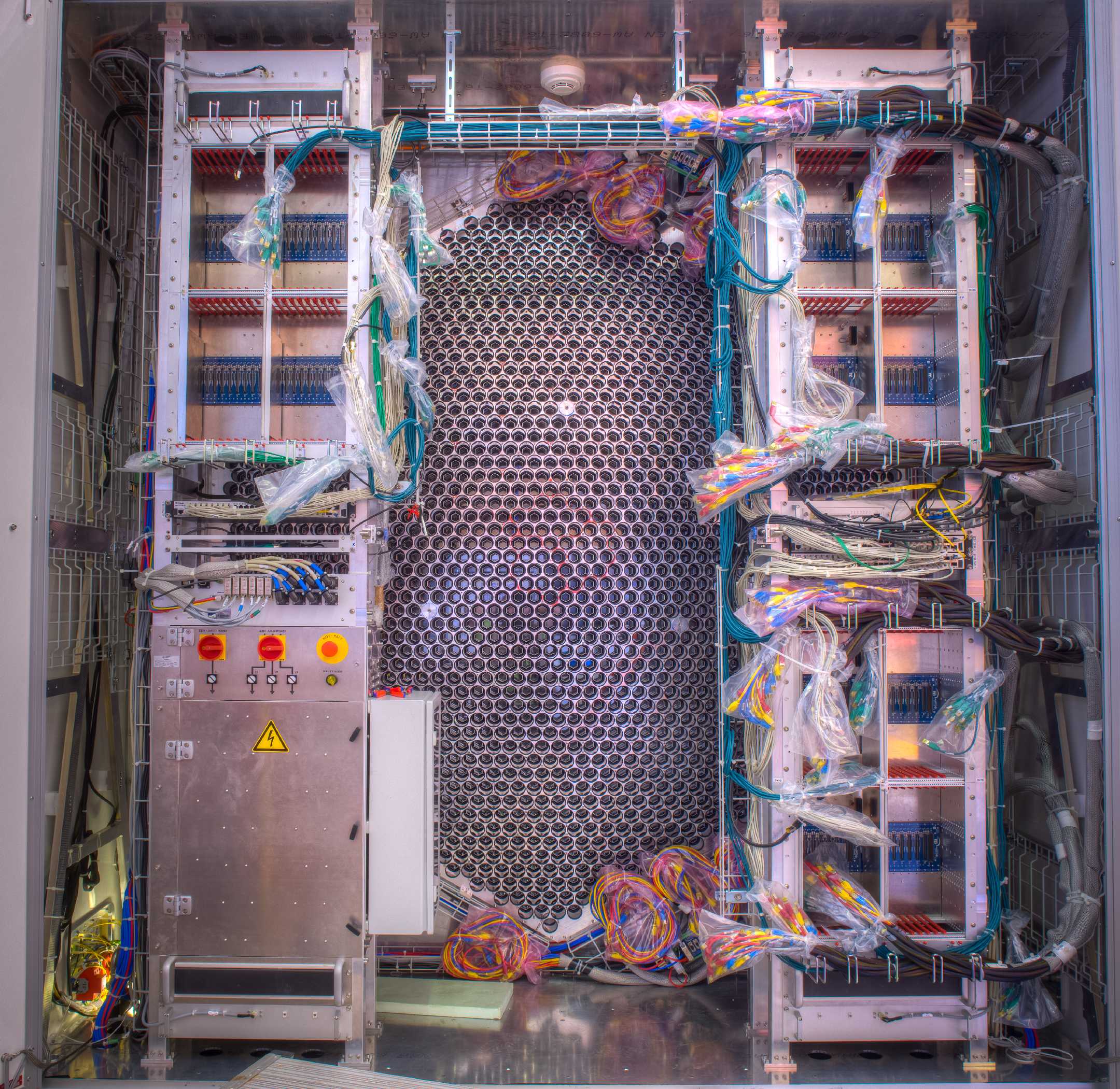 2020 has been the most successful year in terms of data-taking in the history of H.E.S.S. The operational efficiency exceeded 95% for the full 5 telescope array for most of the year, with an average telescope efficiency of 98%. In the entire year about 1180 hours of dark-time observations were taken with each of the 5 telescopes. This record level is unrelated to weather conditions, which caused weather losses that were close to the long-term average.
In addition, the collaboration started taking data under moonlight conditions, reflecting the increasing importance of time-domain astronomy for the H.E.S.S. science program. This mode is still in its ramp-up phase and is expected to lead to a further increase of observing time in 2021.
The collaboration does not take for granted all the work that has gone into making sure the operations were smooth and successful, but aims for another high in 2021 and is looking forward to again meet in person and celebrate together.
Friends and colleagues were sad and shocked to learn that on January 9, 2021 Albert Jahnke died in his hometown, Windhoek, in Namibia. Albert, who has joined the local crew of the H.E.S.S. experiment on its Farm Göllschau site in 2006, died of an infection with Covid-19.
The H.E.S.S. Collaboration offers its deepest condolences to the family and friends of Albert Jahnke.
Albert Jahnke graduated from Windhoek and subsequently Technikon in South Africa. He had worked in telecommunication with various schools and enterprises before deciding to combine his profession with his long-standing interest in astronomy. In 2006 he joined the team in charge of operating the H.E.S.S. array on Farm Göllschau. First he was responsible for training the monthly shift-crews of H.E.S.S. members, mostly from Europe, for their four-week observing campaigns. Albert introduced them to the safety regulations, instrumentation and operation of the telescopes and observational procedures and worked alongside with them for the first few nights of the monthly shift. He kept his responsibility for this activity throughout his entire engagement in H.E.S.S. and has worked closely with more than a hundred two-to-three-person shift crews.
Over the years Albert took up other duties, contributed to many installations on the H.E.S.S. site, worked tirelessly on maintaining all hardware components, and cooperated closely with the many teams of the collaboration that are in charge of any subsystem of the array to ensure the proper functioning. He contributed to almost all aspects of local operations. His dedication to H.E.S.S. was outstanding and it has frequently been difficult to prevent him from working overtime well past his term of duty. He was always available to help shift-crews with any problem they might face at any time of the day and often provided advice even from home when being off-duty.
Beyond work in the control-building and with the telescopes, Albert's contribution to life on Göllschau will probably be best remembered for his excellent barbecues. These weekly events were known as highlights in the monthly shifts and very much looked forward to by returning visitors.
Albert enjoyed working for H.E.S.S. and was a devoted, reliable and hard-working colleague who contributed much to the success of the experiment. Following a very difficult year he fell victim to the pandemic during a well-deserved Christmas and New Year break.
He has been a good friend to many members of the collaboration. He will be truly missed.
H.E.S.S. data resolve extragalactic jet in Centaurus A
June 18, 2020
Today the H.E.S.S. collaboration published a breakthrough result in the magazine Nature (Volume 582, pages 356–359, 2020), revealing the gamma-ray emission from the famous radio galaxy Centaurus A (also known as NGC 5128) to be spatially extended over thousands of light-years. This is the first time that an extragalactic source has been spatially resolved in the regime of very high energy gamma-ray astronomy and permits a direct determination of the size the region responsible for gamma-ray emission at TeV energies in an active galaxy. The publication, based on advanced data analysis of a large amount of excellent data obtained with the H.E.S.S. array is a technical achievement and an important step in our understanding of relativistic jets in the Universe.
During the last decades the universe beyond our Milky Way has been probed in the light of very high energy (VHE) gamma-rays, identifying many different kinds of distant Quasars and other active galaxies. Curiously, those distant and extremely luminous sources of gamma-ray emission are very often found to vary within weeks or days - sometimes even as fast as hours. It was hence concluded, that the highly energetic emission originates from very compact regions - very likely linked to a massive Black Hole in the center of the host galaxy. The new study of Centaurus A observations reveals that the emitting regions of these very energetic sources are actually extended over many thousands of light-years.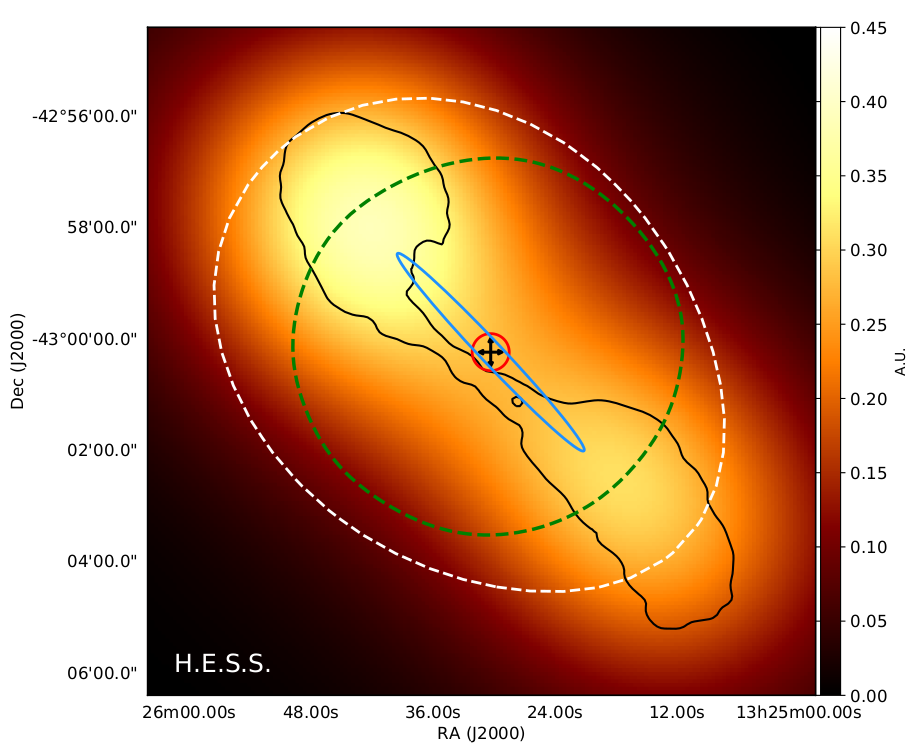 Centaurus A, one of the first radio galaxies to be discovered, is a well-known active galaxy on the Southern Sky that displays prominent jets in highly resolved radio and X-ray images. The H.E.S.S. array detected TeV gamma-ray radiation from this object in 2009 and studies its spectral and temporal characteristics. A new analysis method that now allows mprphological studies find the gamma-ray source to be spatially extended in the direction of the radio and X-ray jets. While the different angular resolutions that can be achieved in different enrgy ranges prohibit a directs comparison on all angular scales, the figure clearly illustrates that the best-fitting model of the gamma-ray emission lines up with the synchrotron radiation revealed in the radio band.